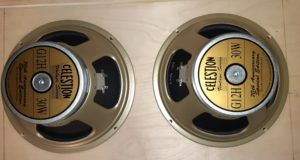 Top row left to top right, Celestion Redback 150-watt with Jensen C12K 100-watt. Eminence Swamp Thang 150-watt with Celestion Redback 150-watt.
Middle row left to right, Two UK Vintage 30's 60-watt ea. 2 Celestion Greenbacks 25-watts ea. 1 Celestion Blackback with Celestion Goldback
Third row, Two Creambacks a Redback and Swampthang, next Celestion 2 G12H 30-watts
By appointment only!
Email rob@badassguitarspeakercabinets.com or call 774 266 5429 for pricing and to schedule an appointment to come to my studio in Taunton MA 02780.
Custom Made Guitar Speaker Cabinets built to your specifications, or you can buy already handmade from existing inventory.
I use Montana brand tool products building my products which are also made in the USA with pride & craftsmanship.
Go to Montana Brand Tools with this link below and coupon code, BADASS, and receive 10 % off.
https://www.montanabrandtools.com/?ref=wYAMB0RprAPqEZ